A Day in the Life of April (Support Worker to Registered Manager)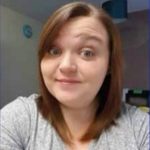 Hi, my name is April Parker-Clark and I'm the Registered Manager of Community Enablement Team. It seems appropriate to tell you all about my life as a manager.
It all started five years ago. I was shopping in town when I received a call from a familiar voice, asking if I was looking for work. My answer was yes, and that's where my role began.
Previous to being employed by CCT, I was on maternity leave with my youngest, and prior to that, I worked in a residential supported living service.
I began my career with CCT as a support worker, and I knew that this was my forever job. It was completely different from supported living! I gained my Level 3 in Health and Social Care whilst working my way up to team leader after six months.
Progressing a year later, being humbled to be asked to take on the role of registered manager.
Fast forward to four years later, I'm now a fully qualified Level 5, with a good CQC rating and a staff team that are so supportive and service that no day is the same.
I could sit here for days telling you about what I do daily because no day is the same. I could be doing:
paperwork
attending meetings
training
working alongside my colleagues in the community
supporting medical appointments with the service users
Every day is different, and as a manager, I have to be ready for anything and everything.
Throughout my whole life, I was always told, 'if you do a job you love, you'll never have to work a single day for the rest of your life.' This has stuck with me throughout and has been my inspiration to pursue my goal.
I start my day by checking my emails, they come thick and fast from the day before, and you never know what's going to be asked of you the day after. I then load our rota system, check that all calls are being attended, looking for any issues for the following week, making sure all service users' hours are catered for and making sure all staff have their allocated hours, breaks in the day and acknowledge any time time off requests.
I have a schedule for the month where I write down all my targets, due dates and audits.
Whether the audit is on the service user's files, daily records, care plans or medications, completing audits helps me see what we as a team are doing well or what we may need to enhance. This allows me to create an action plan (if required) on what I need to do as a manager to support staff to ensure these audits are successful each time with minimal requirements.
Each month there is a scheduled managers meeting; this allows for all managers across the service to discuss what's happening and offer support to one another. The managing director can provide guidance in areas as needed.
As I express to my staff, all feedback is constructive, and we as a team all work together to make sure the service is running safe and effectively.
Audits are time consuming, but they help me work out what we need to improve; this is vital for our growth as a business and a team. Involving the team I find is a great strategy, enhancing our team effectiveness.
Every month I hold team meetings for all the staff. We have used many platforms for this and find that holding a full day of meetings split into different times is the one that works the best. Completing this supports all staff and allows for the development of the staff team to grow. This is an excellent way for me to inform the team of how well we are doing, what we can improve on, and any new initiatives, training or events we have planned. Also, it is a good way for staff to discuss any concerns they may have and what challenges they have in the workplace. I try to make team meetings as fun as possible while being professional and serious when I need to be. We always have cake and coffee!
We use Microsoft Forms for staff and service users to gather feedback on the work that we do. It is not all rainbows, but this is a good way to build a relationship with relatives and an effective way for them to voice their concerns. All feedback is constructive! I write up an action plan and I take it from there; anything the team and I can do to improve the quality of care, we will.
I also have to go out to different environments to 'assess' new potential service users; I love this part of my job. This is where I get a small but detailed care plan on an individual that the adult social care services have sent me to review and assess.
Most referrals are generally within the Nottinghamshire area; I may have to go to hospitals, other care homes and the service user's property.
Every day is a new day, and I learn so much. The most amazing people I have ever met, I have met in this line of work!
Looking for a satisfying and progressive career in social care?
For a full list of our current vacancies, please click here.
For further information on any of our vacancies, please contact us by email on info@challengect.co.uk